KEEPING SCHOOLS SAFE THROUGH MODERN STUDENT WELLNESS
Healthy Minds, Safe Schools is an integrated social-emotional and behavioral (SEB) multi-tiered system of support (MTSS) framework that utilizes a unique data management and analytics system, organizational systems thinking, and team implementation coaching. Using our smart team approach, we assess student risk, prevent harm, and increase student safety.
Our approach to Modern Student Wellness uses a social justice lens and differs from traditional social-emotional learning programs through our integrated and predictive student risk capabilities, SEB Internalized and Externalized risk management functionality, Safe School Smart Teaming, guided data triangulation chats, and customized implementation coaching.
The only screening tool and program to provide Tiered Intervention Banding, in alignment with MTSS, so teams can immediately begin saving students' lives.
The only SEB MTSS screener and program to align with the U.S. Secret Service and the U.S. Department of Education's school shooter pathway to attack protocols.
Case Management Protocols
Healthy Minds, Safe Schools also provides a protocol to actively case-manage the highest risk students, bridging the divide between early identification, programming and treatment options between school and community service providers. Levels of social, emotional, and behavioral instruction and trauma informed care rely on preventative and proactive practices to provide increasingly strategic supports for students with intensive needs. This results in improved inclusive school cultures and creates a team problem-solving approach with the development of smart teams.
Healthy Minds, Safe Schools is empirically sound and evidence-based, and can be replicated across schools with enough flexibility to adapt to the uniqueness of each school and their teams through the process of IPIM™ (identify, prioritize, intervene, and monitor). Structures, functions, and processes are investigated in depth at each tier for teams to explore how such a model will work with fidelity on their own campuses.
Increase identification of high-risk students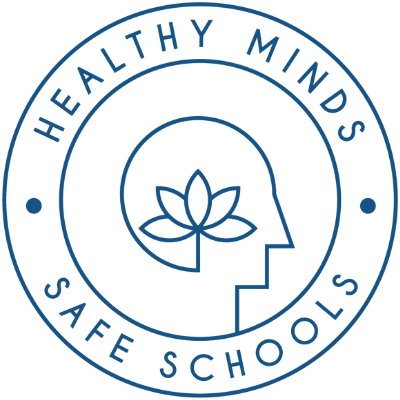 "The Healthy Minds, Safe Schools student risk screener was easy for teachers to administer to students online and the results automatically uploaded to a user-friendly dashboard. The HMSS model provides our Multidisciplinary Leadership Team with structure to implement social-emotional-behavioral MTSS, with timely identification of at-risk students leading to purposeful teamwork and targeted interventions."
Elizabeth B., High School Principal
Healthy Minds, Safe Schools offers both live training and remote learning modules and achieves success through:
Data management and analytic supports:
Realtime data collection, storage, and analysis
Scheduled SEB universal benchmarking
Guided data triangulation chat meetings
Iterative program analysis at multiple levels
MTSS Program Evaluation and Intensity Framework
Phased implementation planning
Leveled intervention tiers
Intervention block scheduling
Reallocation of existing resources
Staff professional learning and coaching:
Leveled instructional techniques at all three tiers
Guided one-on-one peer coaching
Coordinated data collection and guided data chats